FLUID PHASE EQUILIRIA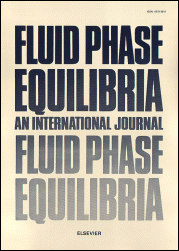 ELSEVIER
Audience
Researchers and Applied Scientists, particularly those in chemical and metallurgical engineering, concerned with the properties or applications of fluid phase equilibria.
Table of Contents (1992-2007)
.(On the site of IEM RAS). Full text version for 1995-2022 years.(On the site of ScienceDirect.com).
---
AIMS AND SCOPE
Fluid Phase Equilibriapublishes high quality papers dealing with experimental, theoretical and applied research related to equilibrium and transport properties of fluid phases.
Abstracting / Indexing
ASCA,
Current Contents/Engineering Technology & Applied Science,
Current Contents/Physical, Chemical & Earth Sciences,
Engineering Index,
GEOBASE,
Geo Abstracts,
INSPEC,
Physics Abstracts,
Science Citation Index
---
ELSEVIER
---
You also can view Flud Phase Equilibria homepage directly. Tables of contents from 1977 (Volume 1) to 2022 years.