Chemical Physics Letters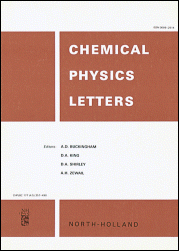 NORTH-HOLLAND
Audience
Chemical and Molecular Physicists, Physical Chemists.
Table of Contents (1992-2004)
.(On the site of IEM RAS)
Full text version for 1995-2022 years. (On the site ScienceDirect.com)
AIMS AND SCOPE
Chemical Physics Letters is the world's principal Letter's journal in the field of chemical physics. It is devoted to the analysis of phenomena in the domain of chemical physics, with an emphasis on theoretical interpretation. Experimental contributions are included if their results are of direct importance for a theoretical analysis. Letters are intended as brief reports of significant, original and timely research results which warrant rapid publication. In considering the suitability of a manuscript for publication, the editors pay particular attention to the originality of the research, the desirability of speedy publication, and the validity of the conclusions. All contributions are refereed.
Abstracting / Indexing
Chemical Abstracts,
Current Contents: Physical, Chemical & Earth Sciences,
Nuclear Engineering Abstracts,
Physics Abstracts,
Physikalische Berichte/Physics Briefs
---
NORTH-HOLLAND
---
You also can connect with Chemical Physics Letters homepage directly. Tables of contents from 1967 (Volume 1) to 2022 years.